Nāṭyālaṅkāra-Short term Certificate Course on Indian Aesthetics
Posted On: Wednesday, June 2nd, 2021
Author: Principal
Noopura Bhramari (R.), an Institution par excellence with the intention of promoting research in the field of Performing Arts and deep study of all aspects of different Art-forms invited applications for its 2020, 2021 batch, to the course  Natyalanakara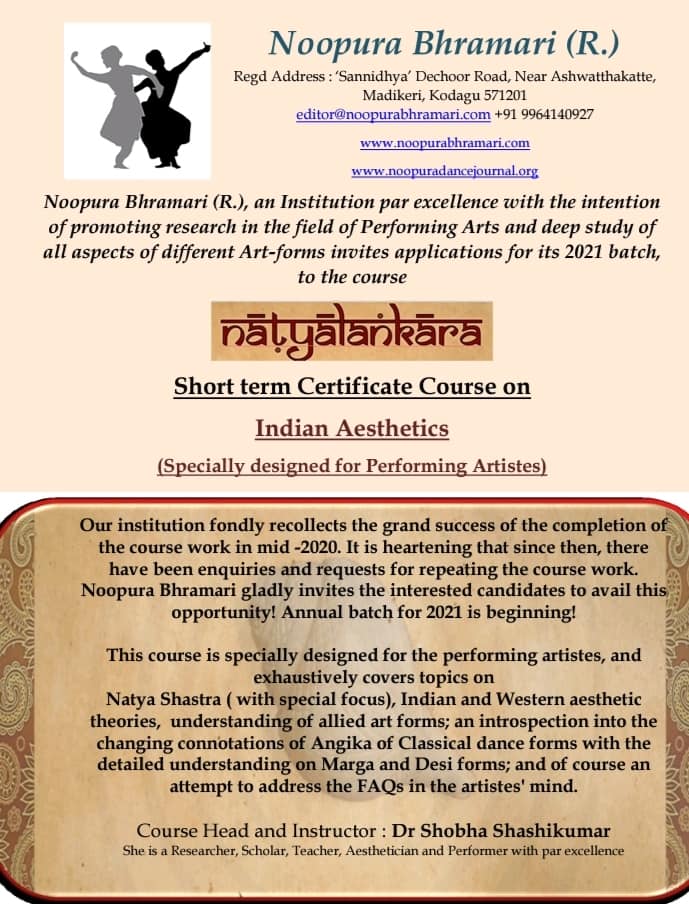 Course shall meet the needs of a performing artistes, serious pursuer and teachers who wish to have a deep understanding of Indian Aesthetics and its applications.
Online classes, shall held in Zoom.
Duration of the course: 20+4=24 sessions (3 months)
Duration of each session: 1hr
Mode of Instruction : Group online classes
Latest Batch will begin from– June 26, 2021
Timings: Saturday and Sunday: 4.30-5.30pm
Medium of Instruction : English
Special lectures shall be organised, to enhance the studies.
Discussion and Assignments will be included.
End of course, examination is optional. Certificate of Merit with marks statement will be provided those who appear for the exam.
Online Certification of participation will be provided on the successful completion of the course.
Eligibility criteria:
Quality is our criteria. Selection process will be conducted for the applicants. Merit based selection. Only limited seats are available.
Minimum eligibility is 18years Or Senior Level examination should be completed in their respective field.
Fill the Google form. https://forms.gle/b9okPmKZuniFX5W98 Last date to receive application: June 20th, 2021.
Shall communicate if candidate has been selected. Entrance test may be conducted if faculty demands/wish to analyse the calibre of candidate.
After selection of candidates, registration procedure and payment of fees should be done by candidates.
Syllabus will be shared only after the selection of candidates.
Fee for the entire course is Five thousand Once the fee is paid and the registration procedure is over, classes will commence from the June 26, 2021.
Decision of selection committee is final.
Noopura Bhramari believes in morals and values of Indian Culture and Gurukula tradition. Disciplined, punctual, patient, soft behaviour is always appreciated.
For further enquiry whatssapp/call +91 9964140927; or write to editor@noopurabhramari.com and for the details about other academic courses and schedules; please visit our website.
2020 Batch highlights
44 Candidates has attended the course successfully in first batch of 2020.
As part of Valedictory, We were very fortunate to have #Shatavadhani_Ganesh sir session for 2 hours, with Q&A .
And words fail to express the gratitude for the cooperation extended by course head Dr Shobha Shashikumar, and course lecturer Arjun Bharadwaj, course assisting faculties Madhulika Srivatsa , Shalini Prashanth Vittal, Dr Dwaritha Viswanatha, and Arun Sreenivasan for their complete support.
20 Candidates has attended the course successfully in 2021.
Total 40 hours, 26 session.
Course Instructor Dr Shobha Shashikumar ; Assisting Faculty : Madhulika Srivatsa.; Guest lecture on Western aesthetics handled by Mr Arjun Bharadhwaj.
Introductory (2) and Concluding (2) session had the scholastic lecture of each 2 hour with the discussion by Shatavadhani Dr R Ganesh.