Posted On: Friday, May 28th, 2021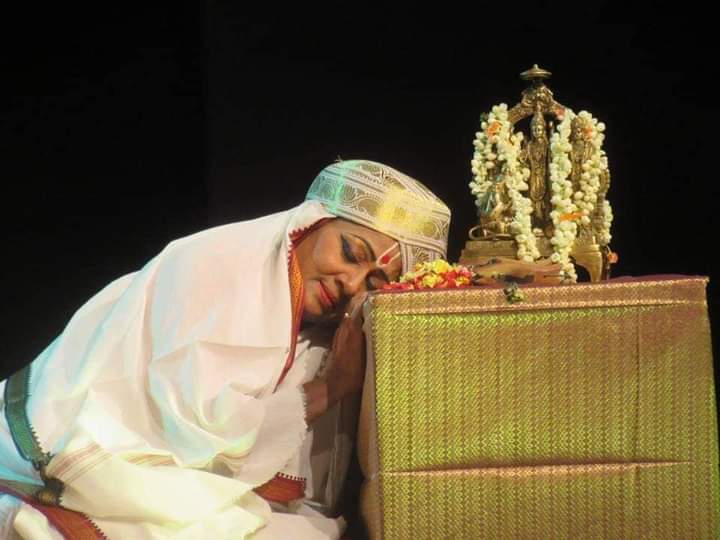 How does one find the courage to write a tribute to someone who was a mother, a friend, a well-wisher and one of the most beautiful persons to have ever entered one's life however long or brief the association may have been…Guru B.Bhanumati fondly called in so many ways – Bhanu amma…ma'am…aunty…atthe…akka… – was one such extraordinary being who touched the lives of countless people! The world of dance mourns the loss of this kind-hearted persona who left for the abode of her beloved Sri Rama on 24th May 2021.

These musings are just one among the many that everyone known to her, every student of hers would be experiencing and is finding ways to express it in their own heartfelt ways…
Bhanu ma'am was someone who made every single student feel that they were always safe in her warm embrace. Every one of us felt so special, and yet she never missed teaching us that we had to simply become one among many, dissolve our egoistic existence for a bigger purpose always. And all these lessons came to us not merely by her words, but by every deed and dance movement of hers! She could become a Hanumanta and a Shabari with such ease and poise whilst her youngest group of student performers would play the roles of Rama and Sita…many rehearsals would just go by with us, fighting with her about how we do not want her to bow down even for a moment, or simply crying and staring at her forgetting to play our roles…she never missed becoming Hanumanta or Shabari even for a moment… If she took the role of Krishna performing all the mischiefs, the student-turned-Yashoda would be drowned in guilt trying to chide or even to simply raise the hand to pretending hitting him…she never missed becoming the little naughty Krishna even for a moment… Watching ma'am dance with such honesty, intensity, and most of all her innocence, mesmerized us!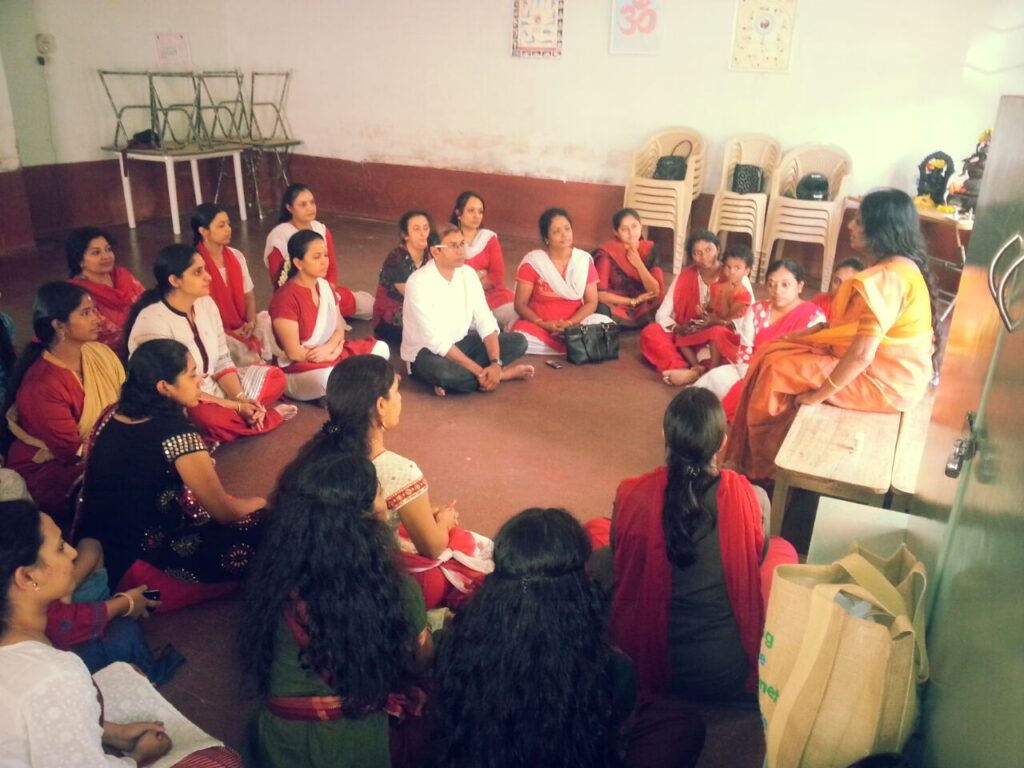 It is so difficult to draw lines between her dance classes, the otherwise chitchatting, the profound discussions, the on-stage happenings or whatever the interaction be named, for – every meeting with her was a beautiful experience. Just her presence meant that that moment would be worth cherishing! One would not know how seamlessly we slipped into practice of various choreographies or talk for hours on various topics or savor tasty foods or just listen to her share her vast ocean of experiences…and the best part was, no one needed to know, we just enjoyed it! Time and again she would remind us that Dance was spiritual…and this was not just with respect to the art form, she always believed that one must reflect it back into our own lives, and it is only then that we would be good artistes and well-rounded individuals… she knew it, experienced it, lived it, and taught it… it just seeped deep into every student's mind and heart and it is something we carry with us wherever we are, trying to understand and explore this beauty and divinity of art and life.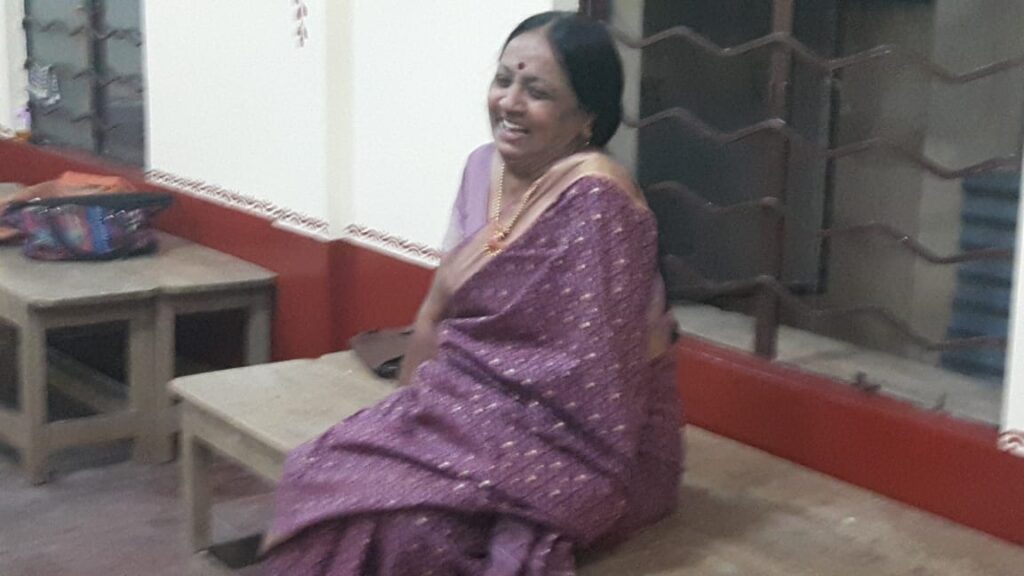 The power and beauty of simple traditions & rituals we followed in her presence are everything that brought us together, and it is only now that we realize how much all those activities meant to us and how she had instilled them in us as samskaaras. A class or a rehearsal would never begin until she touched every student's head when we did the namaskaara, (sometimes we would go twice or thrice to touch her feet, greedy of her love and blessings!); before beginning our make-up on a performance day, she would take a small part of the pancake and apply it to a deity and a mirror and on then on the foreheads of all the dancers, (and the one who was last felt extra special because the extra pancake in ma'am's hand would go on her face!).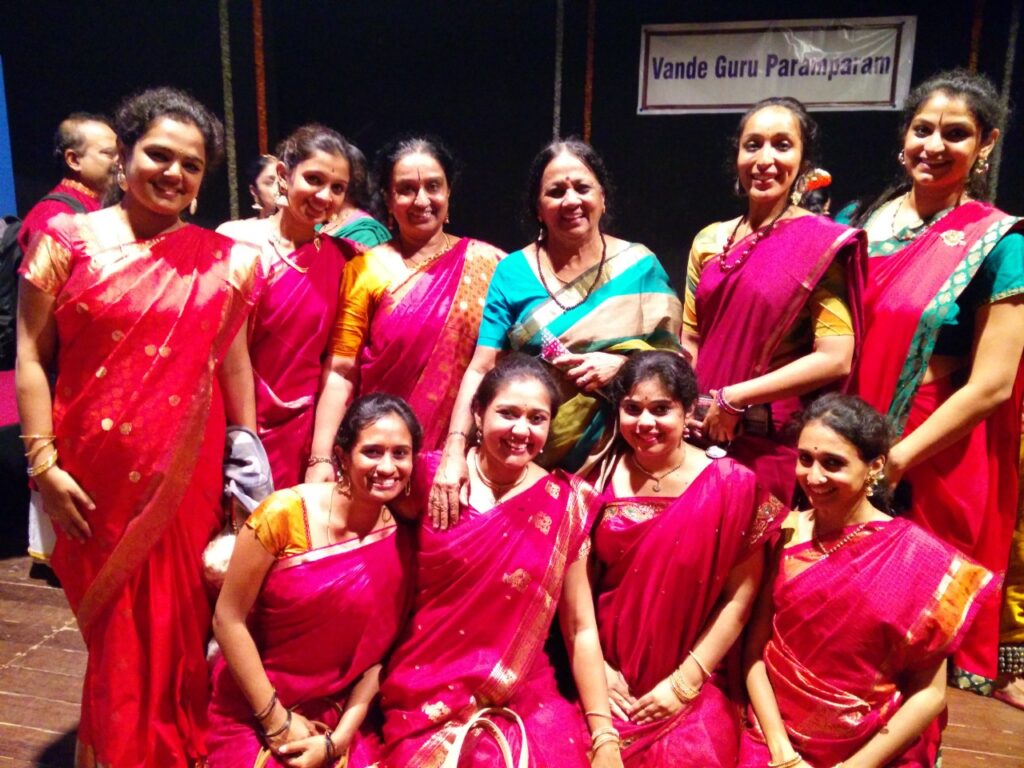 She always had a small box of vibhuti with her wherever she went and would always apply it on the foreheads of the dancers, musicians, compere, and whoever presented anything that day. After applying this little mark of vibhuti under our netti-chuttis, if any grains fell on our bindis or noses, she would carefully wipe it away…such was her affection and attention to detail! And I can undoubtedly say that it was this moment, along with receiving the gejje from her hands, that filled us with excitement and energy! This would be religiously followed by a small circle of holding hands, a prayer, and her final words to us before we went on stage, put your 'Heart & Soul' – the phrase that was our taaraka-mantra…the phrase that would resonate in our ears forever…
'Gurukula-vaasa' was something that we all enjoyed with her and the family in our own little ways. Every student can recollect the countless days that we have spent more time at dance class or at ma'am's place than our own houses…to the extent that our family members would call her to check what we were up to! The late-night rehearsals and sleepovers were many… no rehearsal or post-rehearsal stay over went by without her Gauti-chai (gavati meant lemongrass in Marathi) that she carefully prepared by cutting lemongrass from their home garden, steeping the tea leaves to a perfect boiling point, and adding just the right amount of milk & sugar… and so we knew the fragrance of her love and affection…an addiction that none of us regret developing!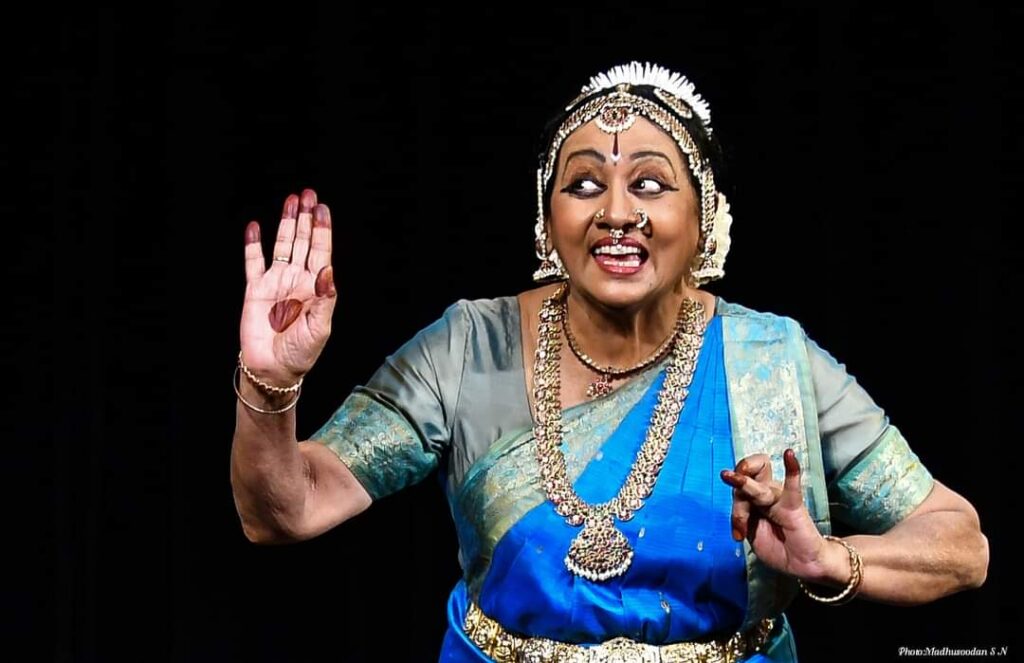 Being a perfectionist with a kaleidoscopic vision for choreography, her dosas were always perfect in shape and taste…which is what we would wake up to having practically lived with her for hours and days together! Another one of her tastiest preparation was fresh butter, churned and made into tiny balls of cloud dipped in cool water… this meant that we would make repeated trips to the kitchen and the refrigerator and gulp them down or have her feed it to us! If ever we were delayed in performances or practice or class, she would ensure that each of us be dropped back home… one can never forget the trustworthy Ambassador that took us everywhere; not to mention the innumerable scooter-rides with her! Ma'am could become the person that her student wanted to see in her, be it a friend or a mother or a guide or just a compassionate listener. She was the go-to for anything that we wanted to share…from the happiest stories to the most embarrassing ones, she was there to listen and be with us. She celebrated our joys as if they were her own and teared up for us when something pained us. She praised us, without hesitation, on anything well done and with the same love and authority advised & corrected us when we erred. Her love embraced us all!

Her innocent and wonder-filled eyes & smile that reflected the divine mother in her, made everything about her beautiful… If there be a tribute to this embodiment of affection and compassion, our dear Bhanu ma'am, let it be an earnest prayer that every one of us who knew her is reminded of this beauty and can experience it within oneself…
Om shanti.