Posted On: Saturday, June 4th, 2022
Temples bring you closer to God, they say. But a single visit to Somēśvara Temple of Halasuru and Bhoganandīśvara Temple of Nandi Hills will also bring you closer to the history of humankind. The alluring sculptures on various gods and goddesses of Sanātana Dharma provide you a sātvik experience and appreciation for the masters of iconography of the past.
Somēśvara Temple, initially built in the Cōḷa dynasty and Bhoganandīśvara Temple of the Nolamba-Pallavas, have undergone several additions and modifications by the subsequent dynasties, particularly Vijayanagara Empire. Both, despite being dedicated to Lord Shiva, have significant sculptures of deities of Vaishnavism, Shaktism, etc.
One notable feature is the repetition of lion figures on the lowermost section of the Sthambhas and pillars of the Mandapas (Pallava style) as a decorative element, in various patterns and styles.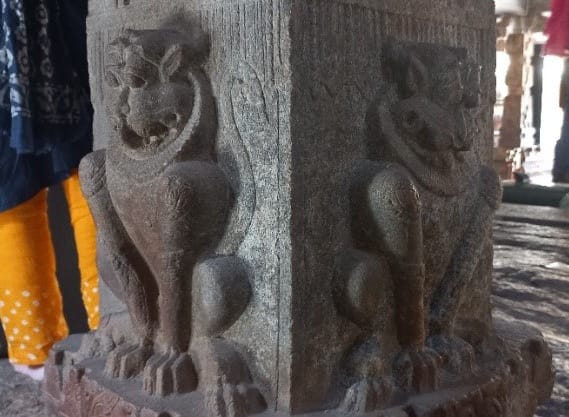 As shown in the above images we can see how one animal can be presented in a variety of forms. In Figure 1 a lion sits facing the Garbhagriha, in another, it looks back and roars; Figure 2 and Figure 3 show the lions sitting, facing front, all equally echoing the power showcased by the empires that contributed in the building of the temple. They can also be interpreted as a symbol of royalty; and countless other interpretations like the vast mind of the sculptor.
From these lions to half-lion, half-human Lord Narasimha, the subtle beauty of the ferocity has been well captured in these temples.
Some of the many forms of Narasimha can be found in and around Garbhagriha.
Lakshminarasimha (Bhoganandīśvara Temple)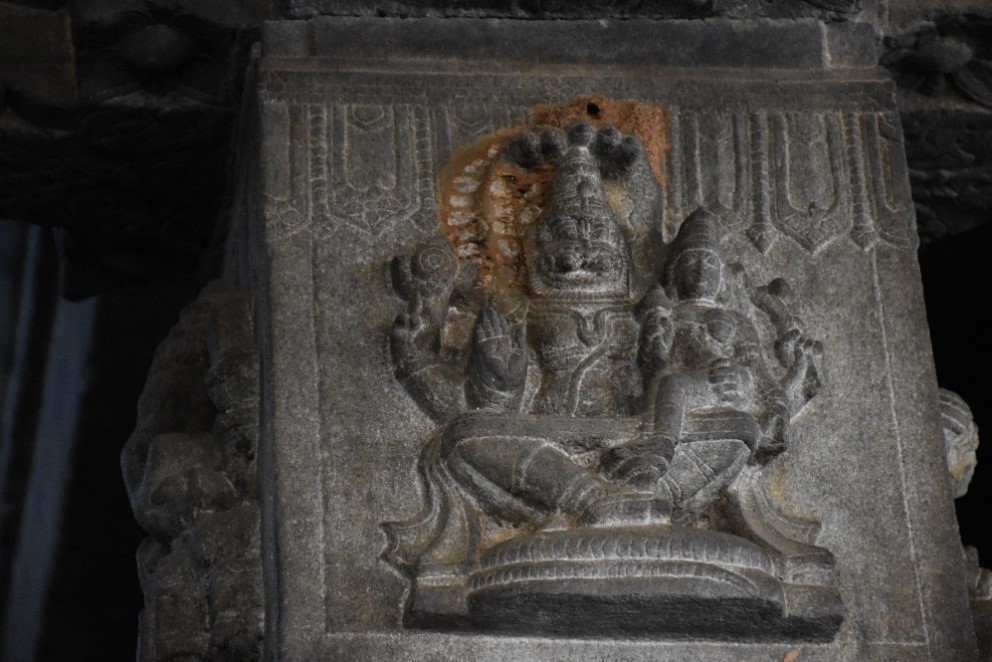 Found on the top most part of the pillar, Lord Narasimha sits in Yogapattasana with śaṅkha-cakra in rear hands and abhaya hasta in right fore hand and in left, holds his consort, Goddess Lakshmi. The goddess is seemingly smaller in size perhaps to show the enormity of Lord's physique.
Yoga Narasimha [(5) Somēśvara Temple, (6) Bhoganandīśvara Temple]
Narasimha is also described as the God of Yoga in our tradition. As seen in Figure 5 and Figure 6, both the temples have the Lord sitting in top most part of the Mandapa pillar in Yogapattasana, śaṅkha-cakra in rear hands and fore arms left free. Contradictory to the usual depictions of Ugra Narasimha, Yoga Narasimha has a divinely serene face of soumya bhāva.
Ugra Narasimha [(7) Somēśvara Temple, (8)(9) Bhoganandīśvara Temple]
In Figure 7 and Figure 8, the very popular Ugra Narasimha, is portrayed with a fierce facial expression, sitting in Vīrāsana and Yogapattaasana, with eight hands/aṣta bhuja; śaṅkha-cakra, gada-padma in rear hands, and fore hands hold Hiraṇyakaśipu as the remaining two lower hands disembowel the demon king, and wears the intestines like a garland.
Figure 9 's Ugra Narasimha is found in the Gōpura of Bhoganandīśvara Temple. It consists the same features as above mentioned but simplified into four hands.
From the pillar that Lord Narasimha came out, to the pillar His sculpture stands today, it is fascinating to see such profound imageries narrated and suggested by our ancestors in the form of sculptures. A beautiful blend of traditions and devotion, Narasimha's glory in Shaivism temples is a living proof of the unconditional inclusivity our then rulers possessed. It makes us artists wonder, if a static sculpture can emote so well, how limitless are we? We all must try our best to understand, appreciate and learn from them, to unfold ourselves into better artists and better humans.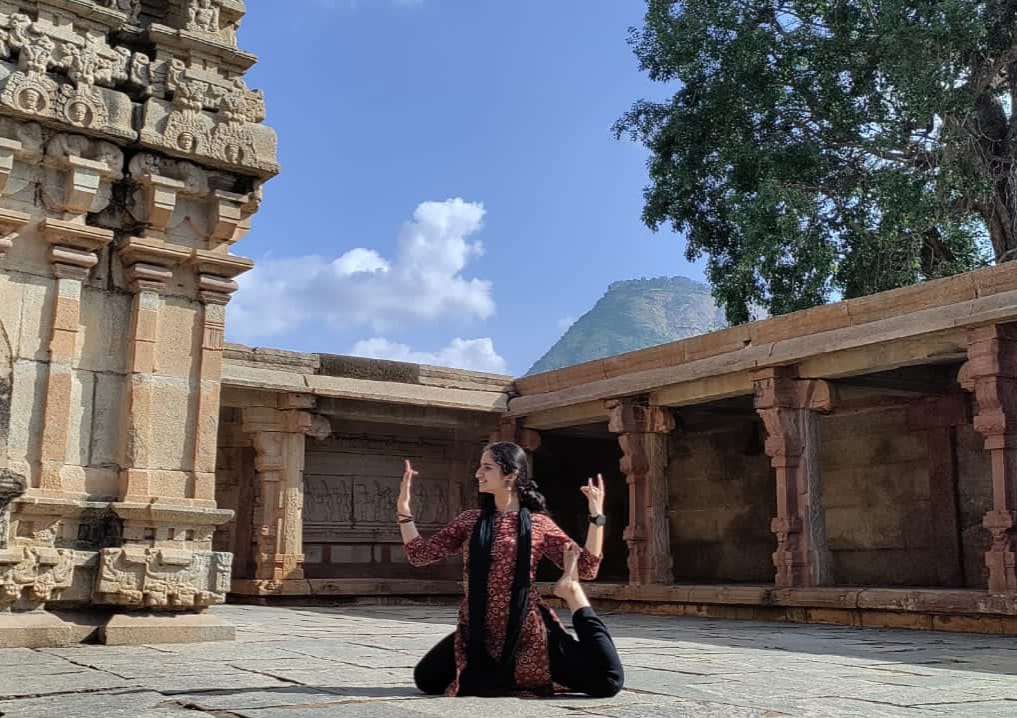 Author : Ankitha has been training under Dr. Dwaritha Viswanatha since 2013 in Nirmiti, an abode of arts and culture. She has successfully completed Bharatanatyam Junior and Senior Exam conducted by KSEEB and five levels of Bharatanatyam. Ankitha is currently studying PU 2 in Transcend Group of Institutions, pursuing commerce. Alongside dance, she has indulged herself in yoga and nattuvangam too. She is also an Intern in Nrityashilpa Yatra- a Temple study programme conducted by Noopurabhramari.)